.
Songhua inkstone: a rising star in China's inkstone field
之前我們的節目中曾介紹了中國傳統的"文房四寶"——筆、墨、紙、硯。中國硯,品類繁多,松花硯當屬"個性"硯臺之一,以產自吉林長白山的松花石雕刻而成。用松花石制硯興盛于清朝,康熙帝對松花硯喜愛有加,封它為"御硯"。
In our previous programs, we introduced the traditional Chinese "Four Treasures of the Study"-inkbrush, inkstick, paper and inkstone. There are many kinds of inkstones in China, and Songhua inkstone is one of the characteristic inkstones, which is carved from Songhua stone in Changbai Mountain, northeast China's Jilin Province. Making inkstone out of Songhua stone flourished in Qing Dynasty, and Emperor Kangxi loved it so much that he honored it as the inkstone exclusively used by the imperial family.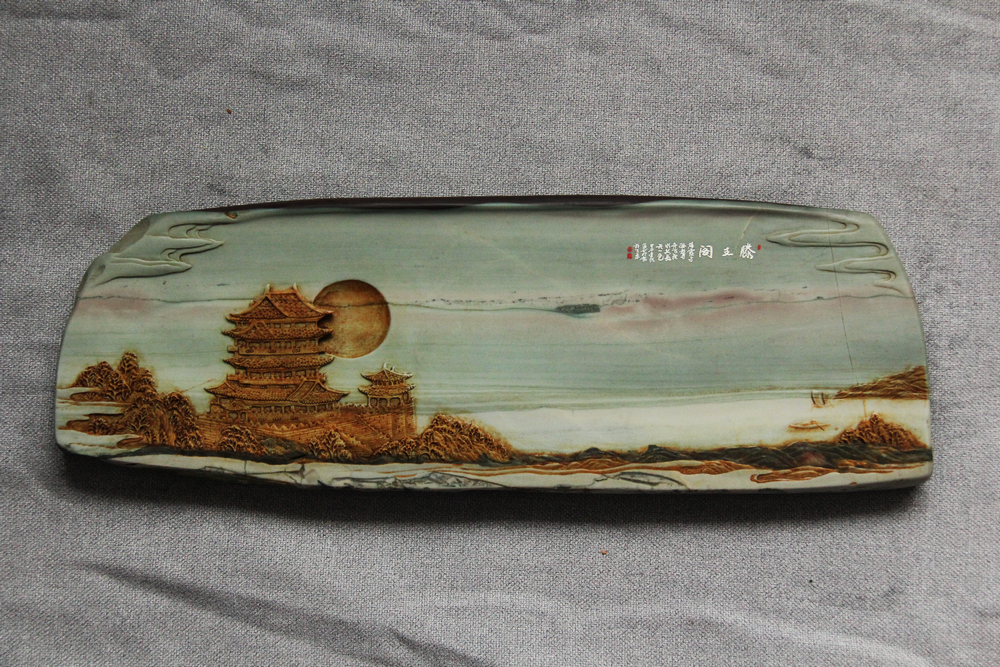 松花硯的"個性"之一在于色彩,由于松花石長年累月經海水洗滌,自然紋理豐富多樣,又色彩斑斕,以綠色最為多見,紫袍綠帶最為奇特,楊黃綠色最為上乘......無論是純色系,還是共生色系,大自然神奇的力量賦予松花石得天獨厚的天然優勢,使得松花硯散發獨特魅力。
One of the special properties of Songhua inkstone lies in its color. Washed by seawater for years, Songhua stone's natural texture is rich and colorful, with green being the most common color, purple background woven with green belts being the most peculiar, and poplar yellow green being the valuable. Whether it is solid color or symbiotic color, the nature's magical power endows Songhua stone with natural advantages, resulting in the unique charm of Songhua inkstone.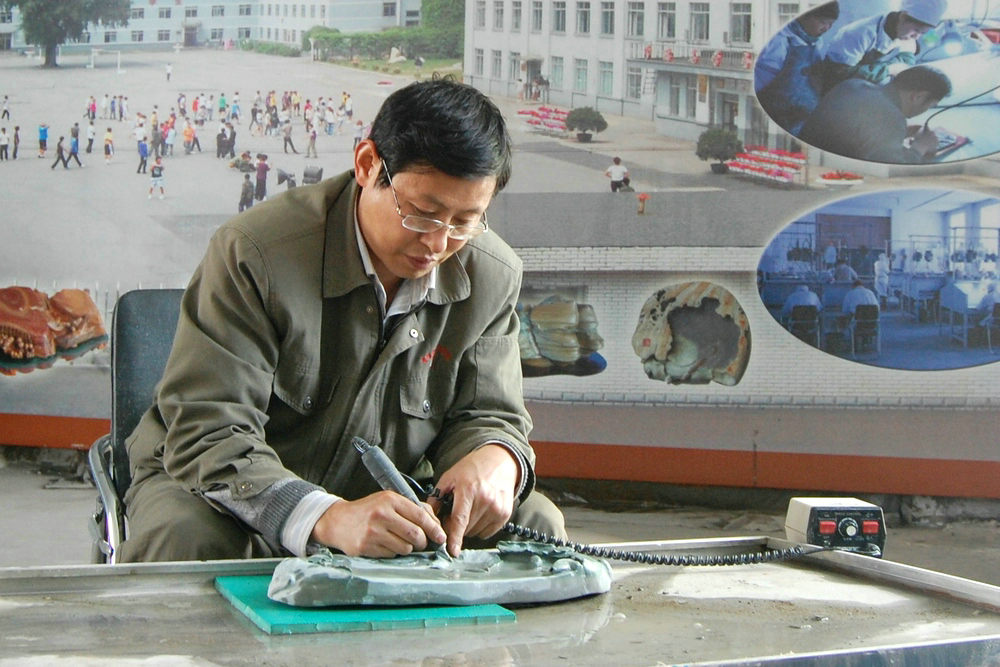 松花硯雕工藝師 張世林
松花硯的另一個"個性"在于雕刻。如何在松花石自然美的基礎上,進行藝術創造,這對匠人的技藝要求極高,通常要掌握平雕、透雕、鏤空等多種技術。并且,松花石堅硬如玉,礦物硬度在3.0到4.5之間,大約是金剛石一半的硬度,雕刻技藝則難上加難,要將天然松花石與后天雕刻技藝巧妙融為一體,還需匠人注入自己的思想精華,達到"天人合一"的藝術境界,才能成就一方好的松花硯。
Another unique feature of Songhua inkstone lies in carving. How to create art on the basis of the natural beauty of Songhua stone requires extremely high skills of craftsmen, who usually have to master a variety of techniques such as flat carving, transparent carving and hollow carving. Moreover, Songhua stone is as hard as jade. Its mineral hardness is between 3.0 and 4.5, which is about half of that of diamond, making its carving even more challenging. To skillfully integrate natural Songhua stone with manual carving, craftsmen need to devote their own ingenuity to achieve the artistic state of achieving harmony between man and nature. Only going through these efforts can a good Songhua inkstone be made.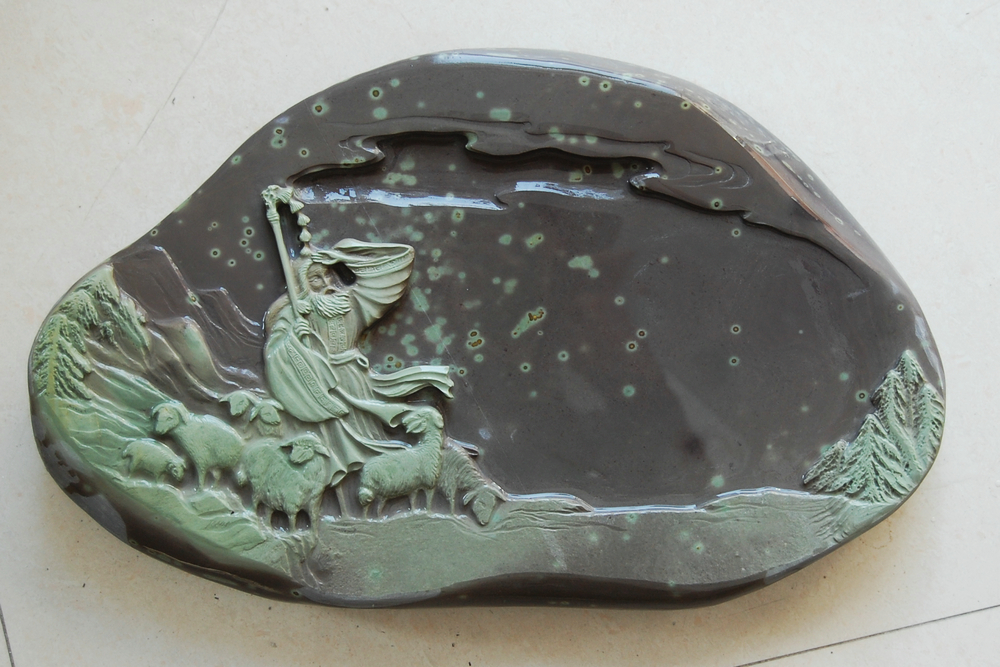 松花硯雕工藝師張世林作品 《蘇武牧羊》
在匠人的手里,松花硯往往被融入大量中華文化的元素,多以詩畫營造氛圍,我們稱其為"文氣"。眼前這件《蘇武牧羊》松花硯,以綠石層雕刻出人物、羊群等細節,用紫石層作為風雪交加的氣氛渲染,而密集不均的星眼恰似暴風中的雪花,點綴其間,將蘇武不屈不撓捍衛國家尊嚴的氣概表現得淋漓盡致。
In the craftsmen's hands, Songhua inkstone is often integrated with an abundance of Chinese cultural elements which are mostly related to poetry and painting and creating a literati feel. The Songhua inkstone named "Su Wu the Shepherd" carves figures, sheep and other details with green stone layers, and renders with purple stone layers as the presence of wind and snow. The dense and uneven dots are just like snowflakes in the storm, perfectly underscoring Su Wu's indomitable spirit of defending national sanctity.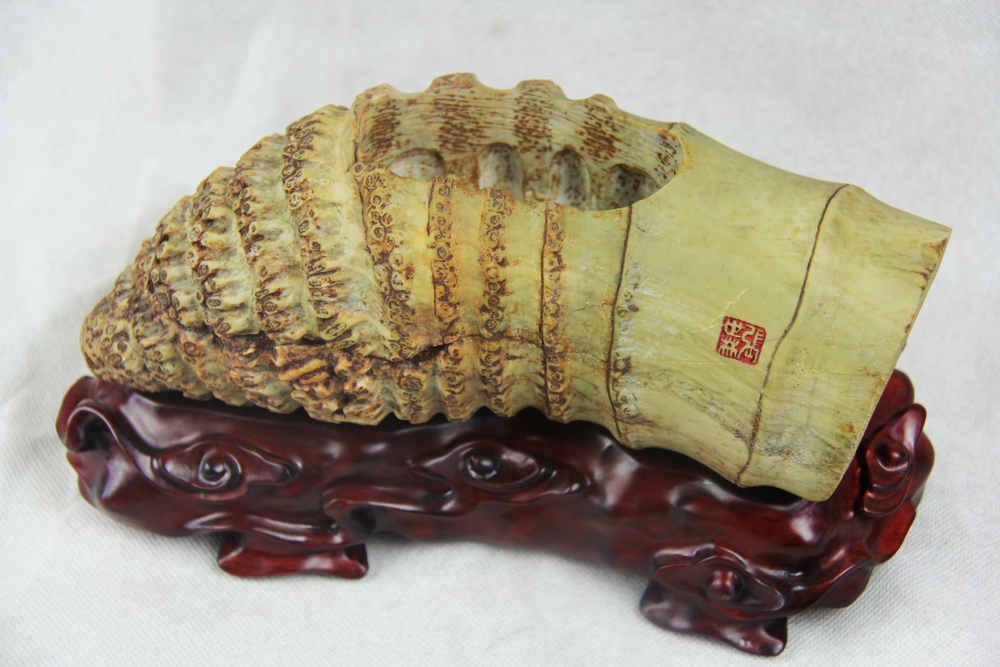 如今,硯作為工具的功能性已逐漸弱化,相反其藝術性、鑒賞性不斷被挖掘稱贊。松花硯也憑借自己的"個性"優勢,從實用性向藝術性蛻變,在大眾視野中"出圈",成為繼四大名硯之外的"新星"。
Nowadays, the functionality of inkstone as a study tool has gradually weakened. On the other hand, attention to its artistry and appreciation value is on the rise. Songhua inkstone has also changed from being known for its practicality to its artistry by virtue of its unique individuality. Songhua inkstone has made its mark as a rising star after the country's established four renowned inkstones.
鳴謝:吉林省林業技師學院松花石雕刻專業高級講師、中國長白山松花石研究會副主席張世林
吉林省林業技師學院 松花石雕刻與鑒賞專業 硯雕講師張斯奇 提供素材